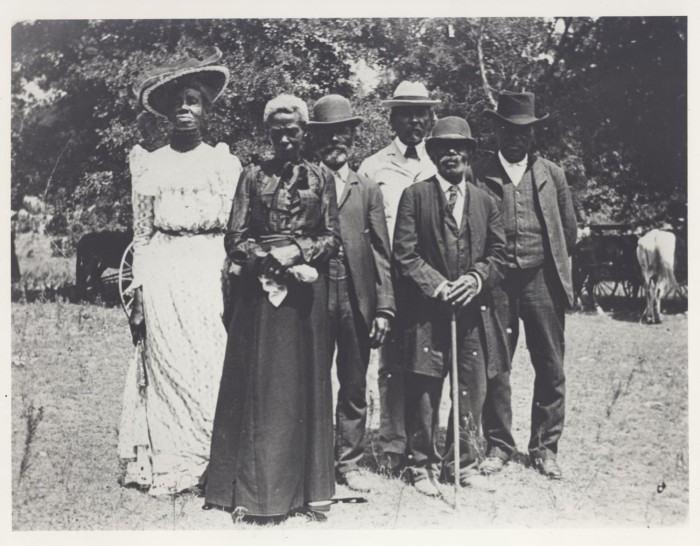 [Emancipation Day Celebration, June 19, 1900]
Stephenson, Mrs. Charles (Grace Murray). [Emancipation Day Celebration, June 19, 1900], photograph, June 19, 1900; (https://texashistory.unt.edu/ark:/67531/metapth124053/: accessed June 15, 2020), University of North Texas Libraries, The Portal to Texas History, https://texashistory.unt.edu; crediting Austin History Center, Austin Public Library.
On June 19, 1865 in Galveston, Texas General Gordon Granger of the Union Army informed the people of Texas that all enslaved people in the state were free.
This was in accordance with Lincoln's executive order, the Emancipation Proclamation, issued two and a half years earlier. That order had declared all the enslaved people in the Confederate states free. By the time Granger made the announcement in Texas, Lincoln was gone. Enforcement of his order in Texas had been slow.

June 19, the date of Granger's announcement became the date for an annual celebration, Juneteenth (a combination of June and nineteenth). Also known as Emancipation Day, it is the oldest and most popular celebration of the emancipation of enslaved people. In 1980, Juneteenth became an official state holiday in Texas. Today it is a holiday in 47 states including New York (since 2004). Outdoor celebrations commonly include parades, picnics and speeches. Henry Louis Gates writes: "Juneteenth celebrates African American freedom and achievement, while encouraging continuous self-development and respect for all cultures."
Ralph Ellison's novel Juneteenth was published in 1999.
Within the last week, several businesses, including Twitter, the New York Times, and Vox Media announced that June 19 would be a paid day off for their employees.