Image: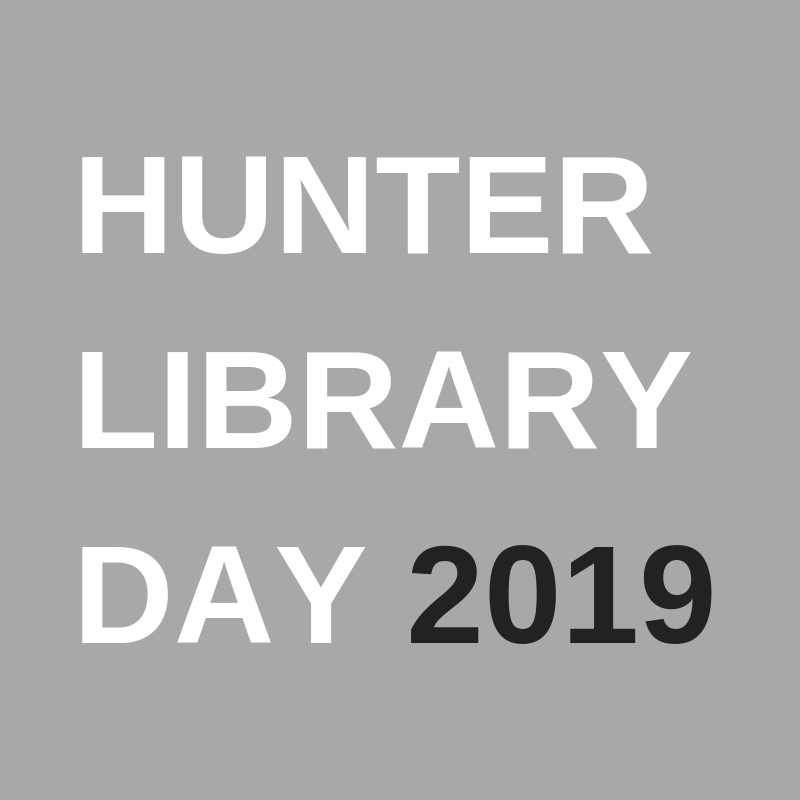 Library Day is TOMORROW - Thursday, April 4, 2019 from 1-3pm on the 3rd Floor of Cooperman Library. You are invited and welcome to join us.
What is Library Day?
For over 20 years, the Hunter College Libraries have dedicated one day in April to celebrate research and scholarship by the Hunter community.
Library Day is a chance to come together to celebrate the accomplishments of our faculty, staff, and students: we highlight the people who work in the Hunter College Libraries enabling access to resources and services for our community; we feature the scholarship and creative work by Hunter Libraries faculty and staff; and we honor student winners of the Paul LeClerc Competition for Best Research Papers. Library Day also allows the Administration of the college to recognize faculty authors with a book signing and display of their works. We then put the signed copies of these books into the Special Collections of Hunter College, preserving a record of published books by Hunter faculty for future generations.
Our Guest Speaker this year is Professor Hendrik Dey (Department of Art and Art History), an archaeologist and historian specializing in cities and urbanism in the Mediterranean during and after the fall of the Roman Empire. He splits his research time and interests between the city of Rome and underwater archaeological fieldwork at Caesarea Maritima in Israel (with EC Fellow Beverly Goodman). His several books include one on Rome in the early Middle Ages (The Aurelian Wall and the Refashioning of Imperial Rome, 271-855, Cambridge U. Press, 2011), and an urban history of medieval Rome from 400 – 1400, currently in progress. A former Rome Prize Fellow of the American Academy in Rome, he is currently Professor in the Department of Art and Art History at Hunter College. He received his Ph.D. in Classical Art and Archaeology from the University of Michigan in 2006.
He will be speaking about his recently published book, Fifty Early Medieval Things: Materials of Culture in Late Antiquity and the Early Middle Ages, available at the Cooperman Library Special Collection, 2nd floor CB351 .D43 2019.