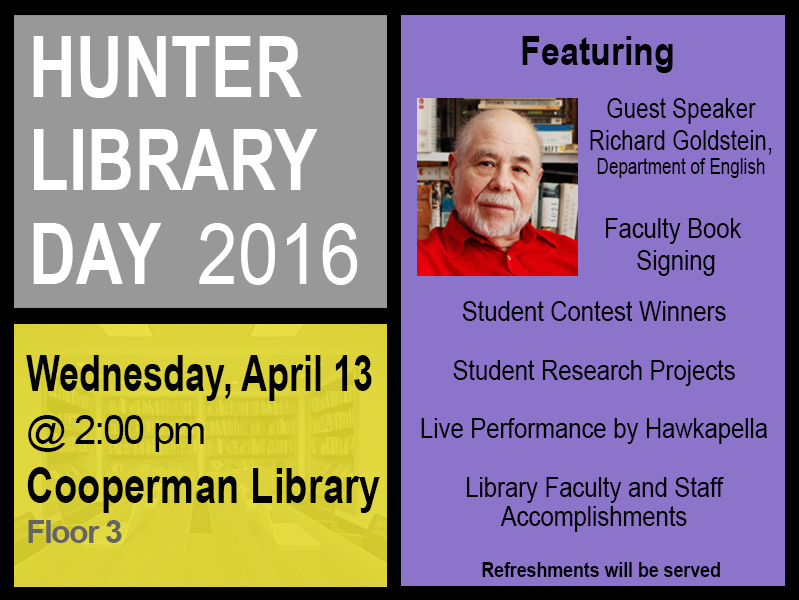 Please join us for our annual Library Day celebration on Wednesday, April 13 at 2pm in the Cooperman Library, 3rd Floor. We will enjoy an afternoon of celebrating faculty and student scholarship and achievements.
Events include:
Guest Speaker Richard Goldstein, Adjunct Professor in the Department of English:
"Richard Goldstein is a founder of rock criticism. His column Pop Eye, which ran in The Village Voice beginning in 1966, was the first regular coverage of rock music in a major publication. His book The Poetry of Rock, was one of the first works to argue that rock lyrics had poetic content. He is the author of the recently published memoir, Another Little Piece of My Heart: My Life of Rock and Revolution in the Sixties, as well as Goldstein's Greatest Hits, Reporting the Counterculture, and Homocons: The Rise of the Gay Right. He has written extensively about the intersection of culture, politics, and sexuality, and he is the recipient of a GLAAD award for his LGBT journalism. His work has appeared in The Nation, New York, The New York Times, Harpers, Artforum, and other publications. He is an adjunct professor at Hunter College of the City University of New York, where he teaches courses on pop-culture theory and the Sixties."
Live Performance by Hawkapella, Hunter's a cappella group.
Student Contest Winners:
The Paul LeClerc Competition for Best Research Papers

The Charlotte Katz Millenson Book Review Contest
Featuring student-produced work:
Muse Scholars "Activating the Urban Campus" showcase

Professor Wendy Hayden's Rhetorical Criticism Class
Faculty Book Signing
Refreshments will be served.
RSVP to Stephanie Tetro, stetro@hunter.cuny.edu