Image: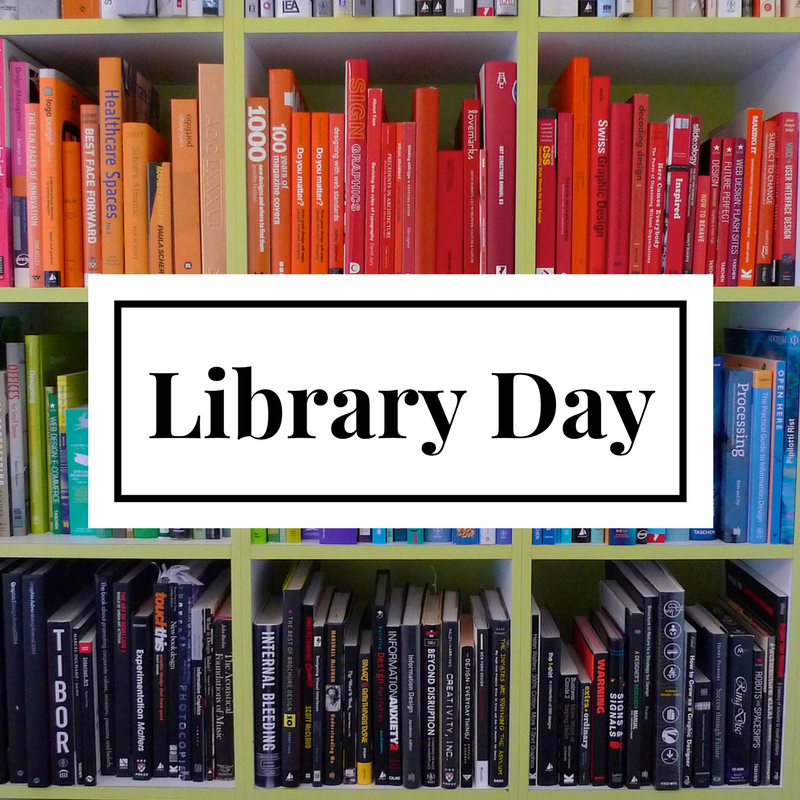 Our annual Library Day celebration was Thursday, April 20, 2017.
Early in the day we hosted Genna, a librarian from the 67th Street Branch (the closest one to the 68th Street campus) of the New York Public Library. She was here for a couple of hours signing people up for NYPL library cards and handing out free goodies and information.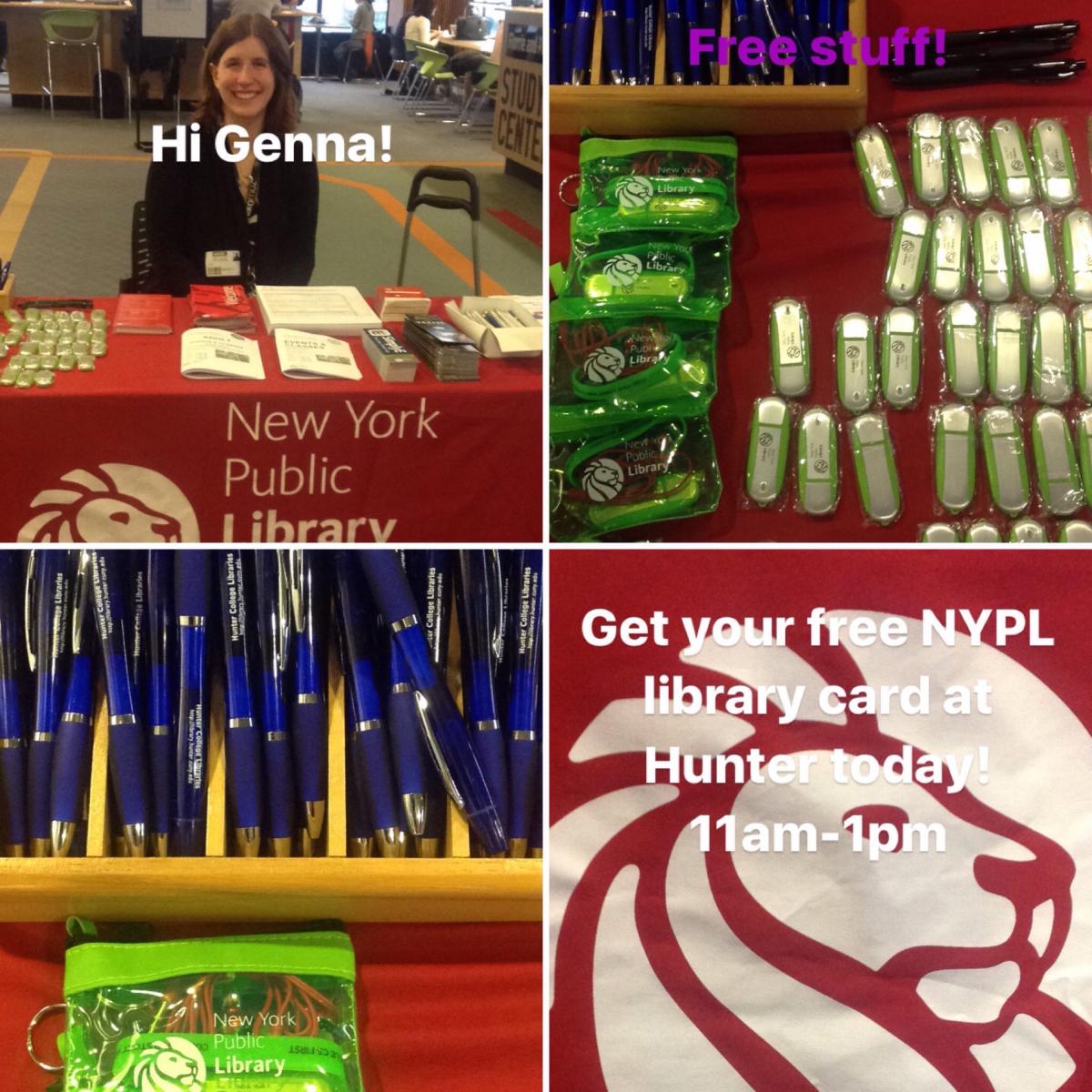 In case you missed Library Day 2017, here's a recap:
Student Scholarship
In addition to the annual awards for the Paul LeClerc Competition for Best Research Papers, we displayed a variety of student-generated projects. In the display cases on the 3rd floor of the Cooperman Library, artwork by the Muse Scholars offered an engaging entry to the event. Part of the "Activating the Urban Campus" exhibition, Muse Scholars artwork can be viewed throughout our campus.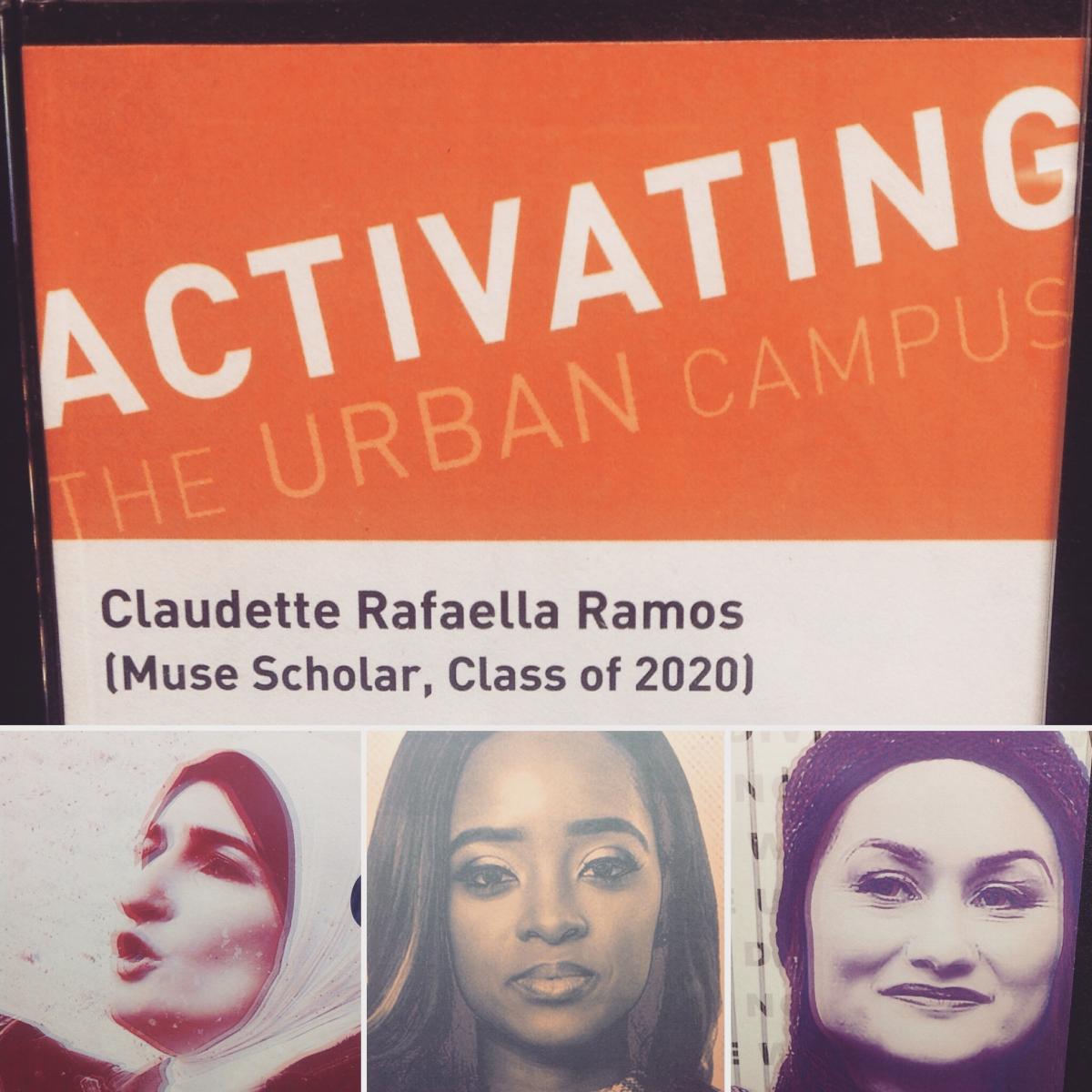 Student designs from Professor Deepsikha Chatterjee's Costume Design class were on display as well. The class worked with librarian Sarah Ward on finding inspiration from library materials for the designs of the Seven Deadly Sins.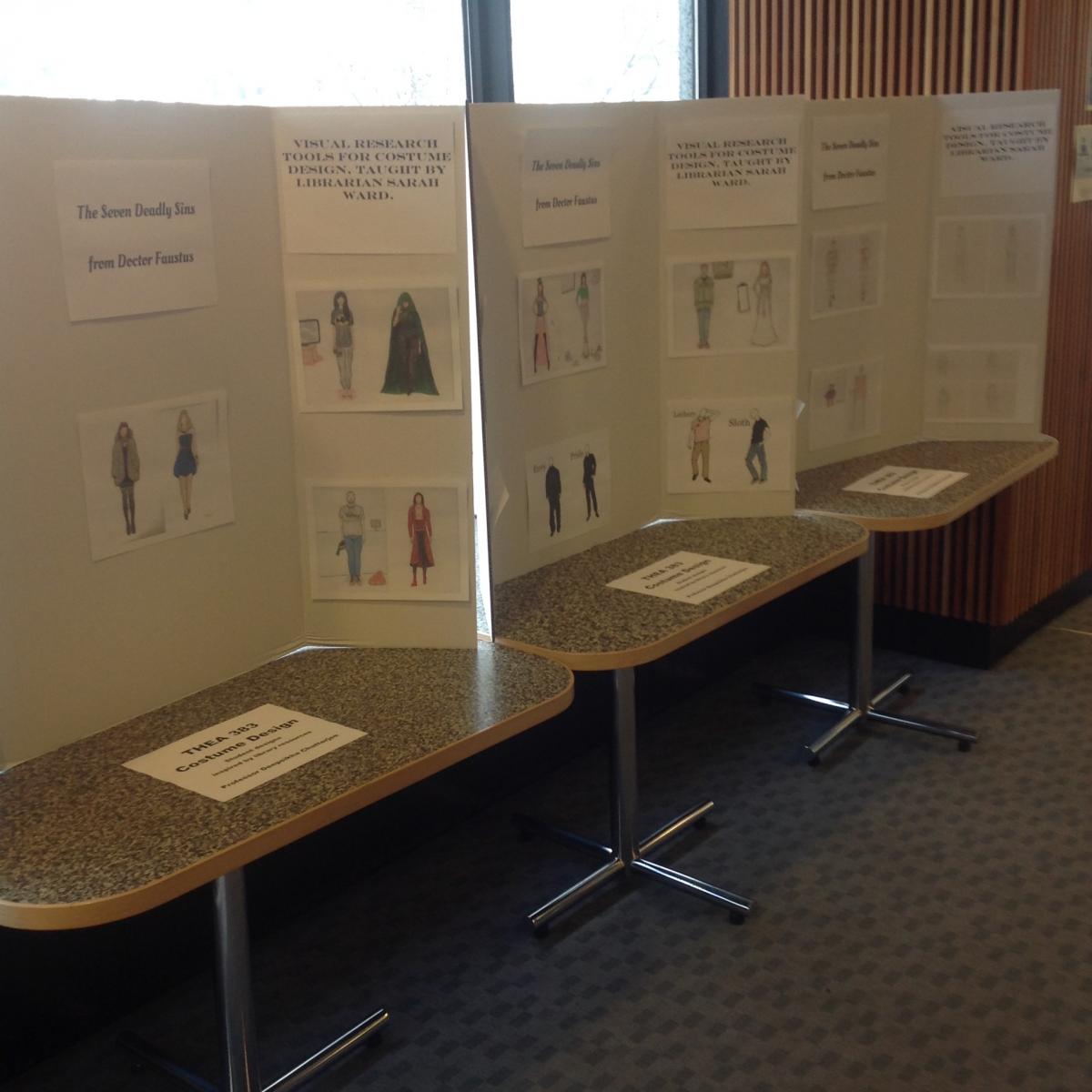 We also displayed an assemblage artwork by Art student Katarina Epino. The mixed media collage was created using discarded library materials.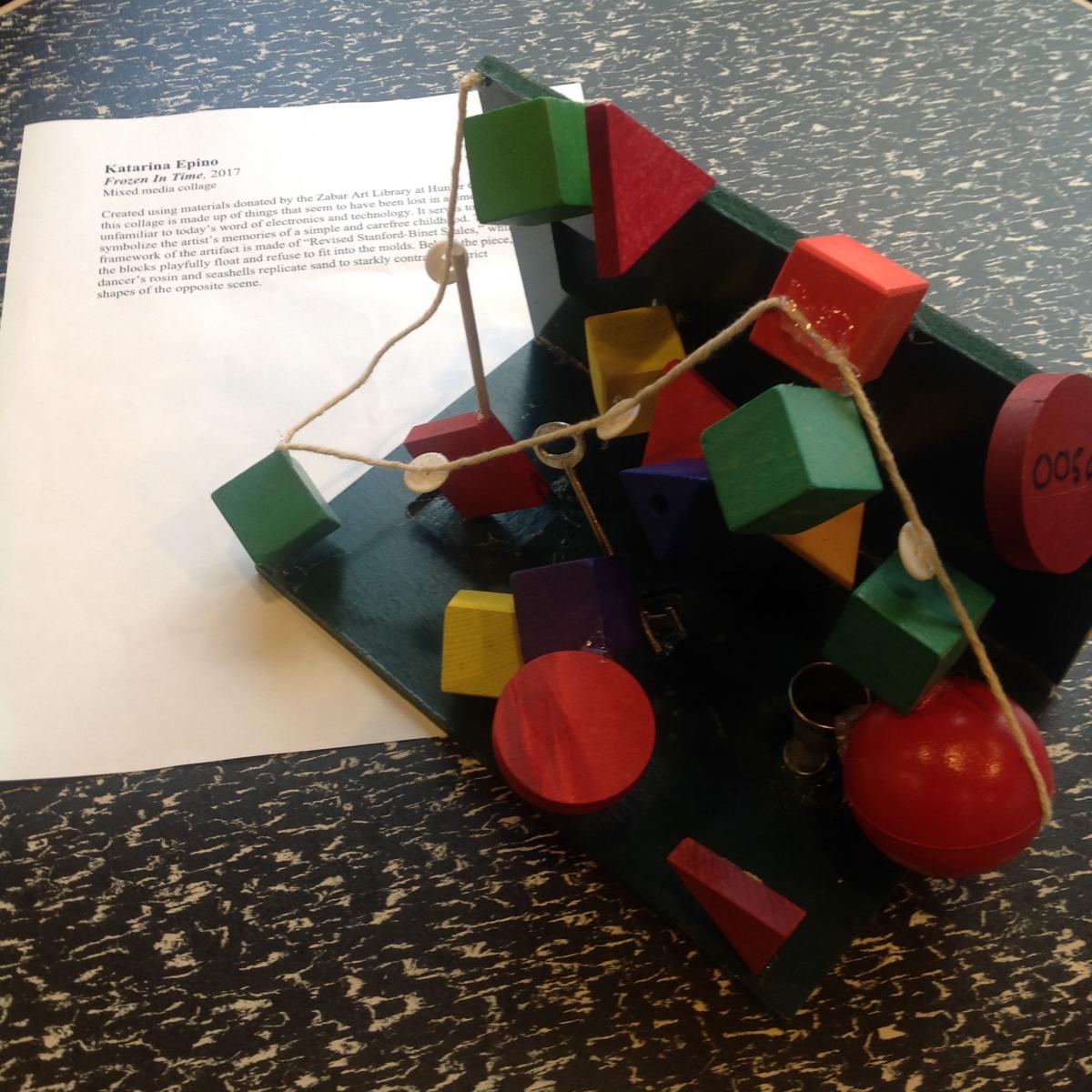 Library Faculty & Staff Accomplishments
Librarian Sarah Johnson created a slideshow to feature the scholarship and accomplishments of library faculty and staff.
Faculty Publications
As we do each year, we had faculty members from across the college sign copies of the books they authored within the past year. A list of all the faculty publications as well as the student contest award winners for the past three years can be found here.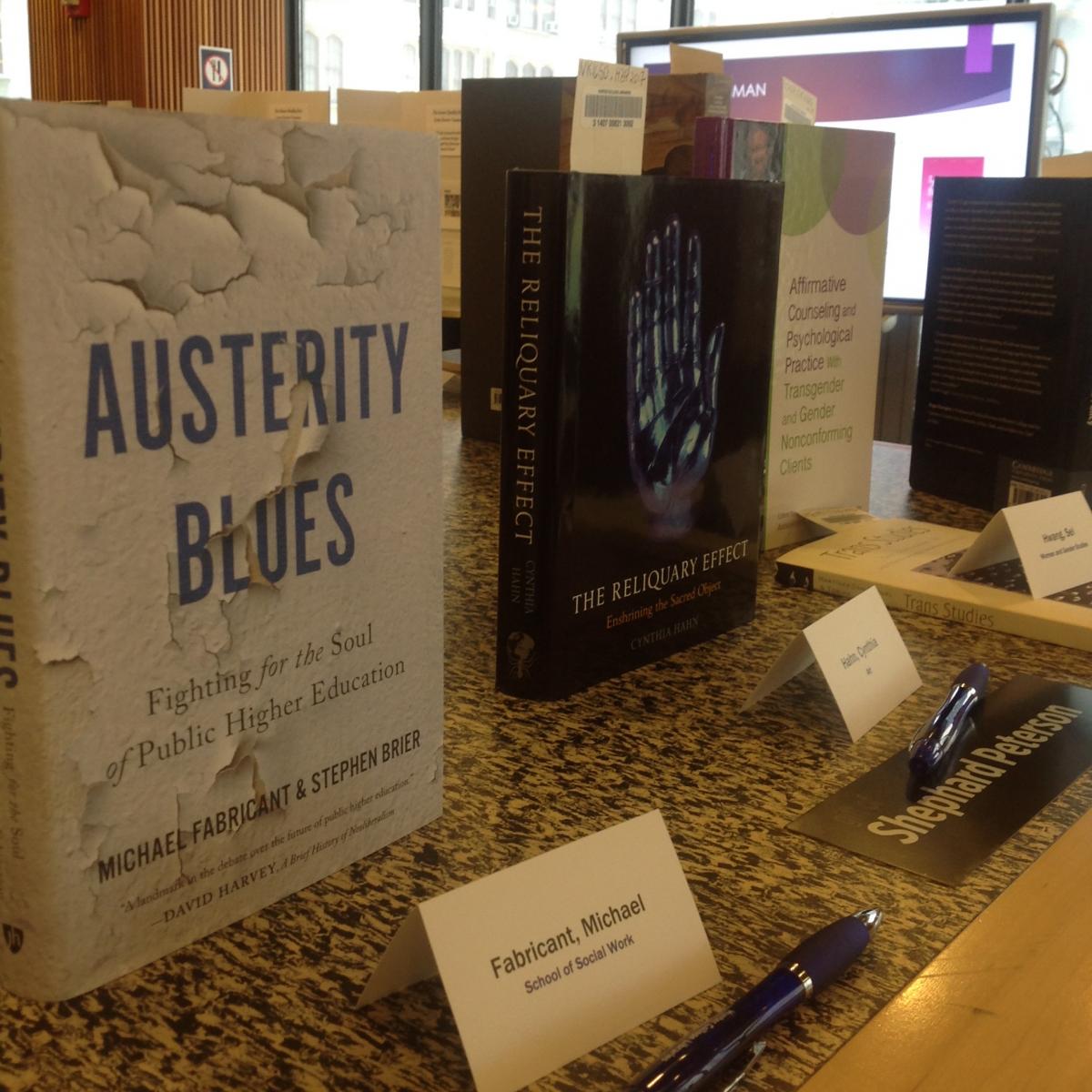 Panel discussion: Truth, Truthiness, and Post-truth: how do we decide what information to trust?
Instead of a single invited guest speaker, this year we decided to host a panel discussion among faculty members on the topic above. We wanted to have a robust, cross-disciplinary conversation about the evaluation of information and the seeking of truth in both our faculty members' research and scholarship as well as in their teaching.
Professor Elizabeth Capezuti (Nursing), Professor Sarah Chinn (English), Professor Benjamin Hett (History), and Professor Shyama Venkateswar (Public Policy) engaged in a compelling discussion, moderated by Professor Stephanie Margolin (Libraries) that ranged from seeking truth in historical research to the different approaches to teaching and analyzing texts in the fields of English and Public Policy.
We are grateful to be a part of such a dynamic and engaging community. Thanks to everyone who helped make Library Day 2017 a success.