Image: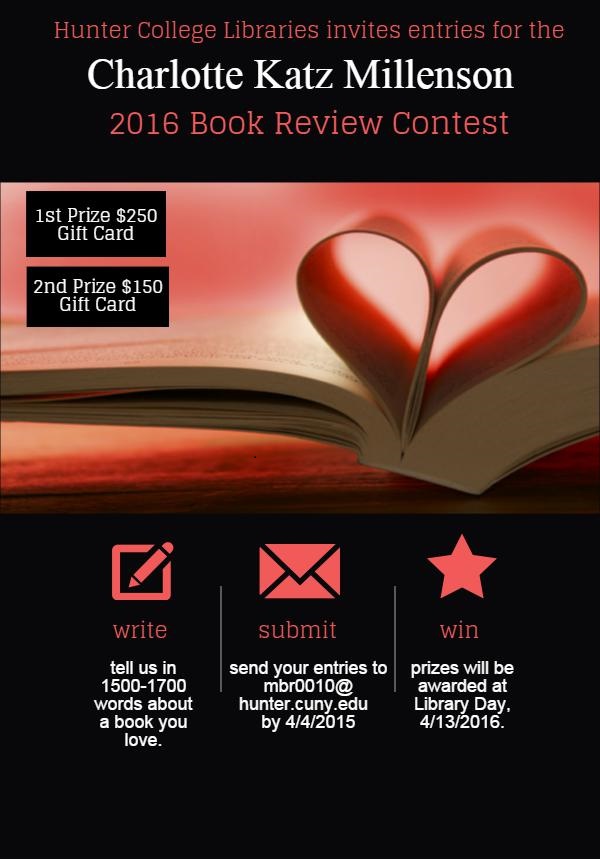 DEADLINE EXTENDED TO FRIDAY, APRIL 8!
Write an essay! Win money!
Has a book ever changed your life? Tell us about it for a chance to win a prize!
Prizes
First Prize Undergraduate or Graduate - $250 Gift Card 
Second Prize Undergraduate or Graduate - $150 Gift Card 
About the Contest: Tell us about a book you love and why. Your entry may be in the form of an essay or book review. There are no restrictions on the type or subject of the book. The important thing is that the book means something to you.
Eligibility
The contest is open to all currently enrolled Hunter College students. Entries will be judged by a panel of Hunter College Faculty members in two categories: Undergraduate and Graduate. A total of four gift cards will be awarded at our annual Library Day celebration on April 13, 2016. Winner will be notified in advance.
How to Enter
To submit an entry, email it as an attachment to mbr0010@hunter.cuny.edu with the subject line "Book Review Entry." All entries should be typed in 12-point font, double-spaced, and between 1500-1700 words. Include a cover page with the book review displaying your name, address, and telephone number. Indicate your enrollment status (Undergraduate or Graduate). To preserve the anonymity of the judging process please do not include your name on the text of the entry aside from the cover page. Deadline for submission is Monday, April 4, 2016. Submitted entries will not be returned. Only one entry per student. Winners will be announced at the Hunter College Libraries annual Library Day celebration on April 13. If you have questions about the contest please contact Mason Brown at 212-772-4191.